Description
"Lauresta" will help you find the best choice for your driveway gates.
Driveway gate automation has three possible options:
Swing driveway gate automatics;

Swing driveway gate automatics with a cylinder motor (recommended for heavier swing gates);

Sliding gate automatics.
1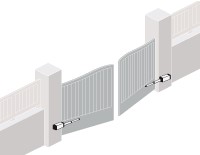 2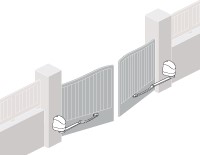 3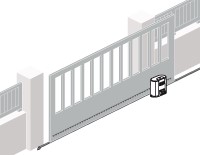 Swing driveway gate automation is designed for gates that are up to 6m. wide. Their possible opening angles depend on the motor and can reach anywhere from 90 to 120 degrees.
Sliding gate automatics are designed for gates that weigh up to 2000 kg (gate length – up to 15 m.).
Driveway gate automation features:
Automatic fail-safe – the motor instantly stops if the sensors detect an obstacle in their way;

Automatic closure – a time for the gates to close automatically can be set;

A backup battery will allow the gates to operate even during a power outage;

The gates can be partially opened to let guests through without completely opening the gates;

Protection against unwanted guests – a smart motor system will prevent any attempts to force the gates open;

Durable gates and motor – driveway gate gears gain momentum and brake softly, ensuring quiet, safe and hiccup-free gate operation;

Your driveway gates can be connected to your garage doors and lightning and be controlled via your mobile device. Read more here.
Swing gate features:
Quickly opened;

Opening direction can be chosen;

Can be installed on inclined surfaces;

Attractive and modern design;

Sun batteries can be paired with the gate.
Gate control options:
standard automatic – most popular. Gates can be opened using a remote or a switch;

using photo sensors or a magnetic loop – gates open by detecting a vehicle near-by;

license plate reader – only open for authorised license plates;

keypad – only open when a correct code is entered;

a phone call.
Garage doors and driveway gates can be connected into one system for your conveniences, allowing you to control everything using one universal remote. More information can be found by clicking here.
The speed of the gates depend on their motor, size and weight, but usually up to 20 seconds.
Driveway gate automatics are IP54 complaint when it comes to dust and moist resistance.
For cases of very frequent use, we recommend automations with a 24 V motor. These motors are less likely to overheat and are therefore more suitable for more frequent use.
Standard driveway gate automation package includes:
a motor;

a control box;

one remote.
Additional driveway gate automation extensions available:

security sensors;

additional remotes;

security lamp.
"Lauresta" offered automation comes only from reliable manufacturers like Somfy, BFT, Came.