Description
Industrial garage doors
can be installed in depots, terminals, production buildings or other industrial objects (logistic centres, car services, car vendors etc.).
In comparison with conventional household garage doors, industrial garage doors are much larger and can cover an area up to 50 m2 big and up to 10 m wide. They are also adapted to for intense, heavier use.
Industrial gates are mostly appealing for their parts being adapted to very frequent use, withstanding many more opening-closing cycles. In addition, they are built from stainless steel or aluminium sheets that can be insulated with a polyurethane filling. Industrial gates are painted with corrosion-resistant paint, providing longevity.
Depending on the purpose of the building and installation possibilities, these gates can either be swing, telescopic or rising. In addition to standard variants, "Lauresta" also offers to manufacture specially designed gates to match your use cases and sizes required.
Technical information
Possible additions: windows; panoramic aluminium parts; additional doors for walking through; sections with perforated steel filling for buildings that require exceptional ventilation (for example: underground parking lots).
Control: electric or manua
Additional safety features: protection from cable malfunction/breakage; photovoltaic sensors that protect from getting crushed.
"Lauresta" industrial gates are EN ISO 9001:2000 and CE safety requirements compliant. Standard industrial gates have the following segment types:
RIB (wider stripes)

MACRORIB (10 mm spaced waves)
Standard texture – plaster.
Industrial gate relays available:

RIB (wider stripes) standard (most popular) colours):

MACRORIB standard (most popular) colours:

If needed, gate segments will be painted to any desired RAL colour for an additional charge to cover painting expenses.
Additionally, the following, less standard segment types are also available: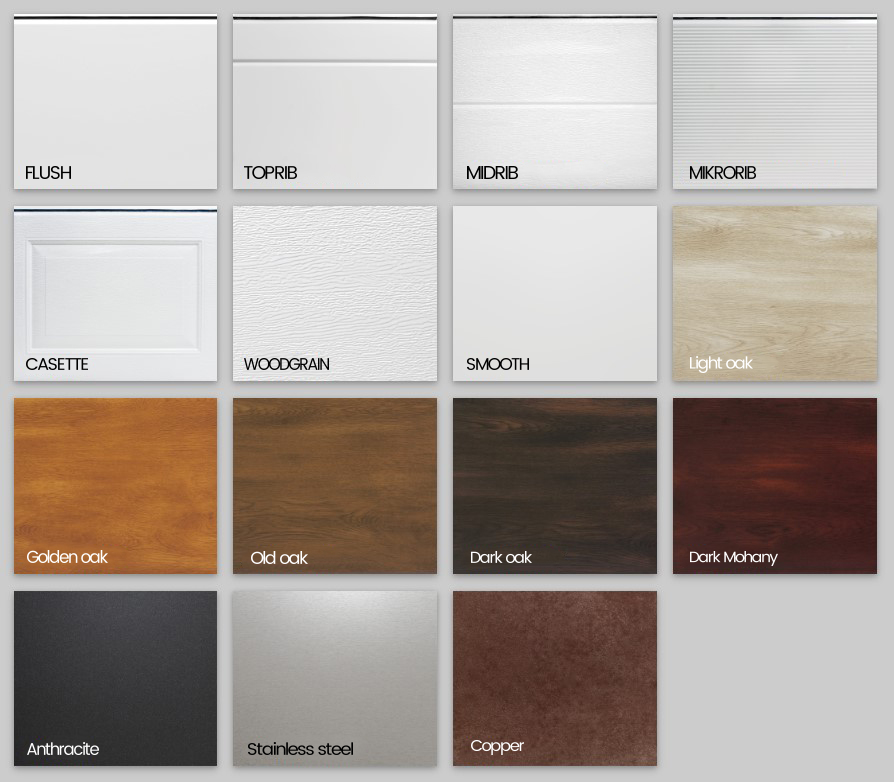 Gate windows
An additional window can be installed on demand to ensure natural lightning.
The window can be made from materials of your choice: plastic acrylic or stainless steel (the frame can be of any RAL palette colours) and of desired shape (round, oval, rectangular).
Additional insulation
Industrial garage doors with thermal insulation are available. Their inner layer is filled with polyurethane which is known for its' extreme insulation features. Thermal conductivity – up to 0.5 W/m2 K. These gates are meant to separate freezers or heaters from other rooms. This is the best heat efficient and long-lasting solution for companies and corporations.
Other thermal insulation gate features:
Specially spaced segments;

Double rubber taping on the bottom of the gate – improve heat efficiency;

Additional windows from three layered glass that are thermal requirement compliant while being perfectly transparent;

Staff doors: with flat, low or standard thresholds;

Spring and cable breakage fail-safes that prevent the gates from closing unexpectedly.
Industrial gate automation
"Lauresta" offers CE certificate compliant automation systems. They are quiet and stable, equipped with a chain-based gear.
Industrial gates can be controlled either via a switch, a remote or a smartphone. A reliable, safe and efficient control of your gates.
Pramoninių vartų variklis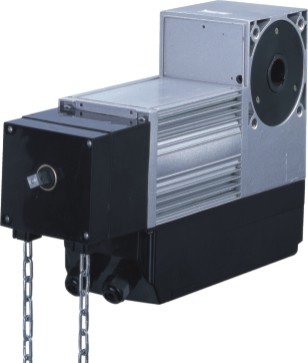 Additional equipment:
Dynamic code system to improve security

Self-locking motors

Backup power sources (for power outages)

Pneumatic, photovoltaic and optical sensors
Other additional elements for all gates:
Doors;

Windows;

Ventillation shafts

Handles;

Locks;

Security fail-safes;

Cable breakage protection;
SLIDING GATES
Industrial spaces with not enough space for rising gates might opt for sliding gates. Vertical segments allow gates to be manufactured up to 30 metres wide and 15 metres high. Industrial rail system ensures a consistent and reliable gate operation.
Sliding gates, once opened, leave unused ceiling space that can be used for cranes or other additional industrial equipment. All gates get individual rails manufactured for them, minimising the space required for their efficient use.  They are compatible with most automation systems. Pneumatic or photovoltaic ensure safe gate operation. Additional doors for employees to walk through allow to save heat as they eliminate the need to open the gate itself. Furthermore, low railing does not require constant maintenance and allows forklifts to drive through without difficulty. A high wind resistance class allows the gates to be installed in windy areas.
NON-FLAMMABLE GATES
Special industrial gates installed with an automatic system and entrance doors. If a fire is detected, they automatically close shut and prevent the fire from spreading. Such closure occurs by using weights instead of electric current to avoid further fire damage. These gates are made of fire-proof materials, while their profile gaskets are inflammable. Additional doors with a special handle for walking through can be installed.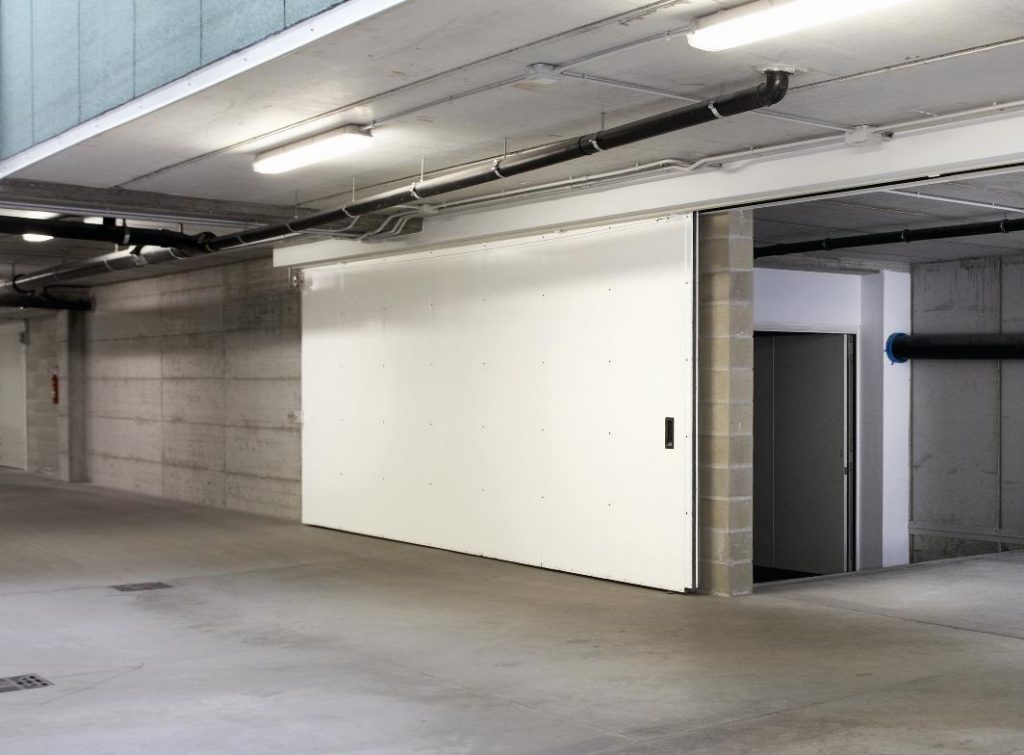 HIGH-SPEED INDUSTRIAL GATES
These gates ensure a fast and safe working environment in commercial and industrial spaces. They are meant for heavy use in places with dense movement that requires the gates to open and close quickly. For this purpose, they ate manufactured from a special, light PVC material. They are very precise, durable and long-lasting. More about high-speed gates read here.
Priešgaisriniai vartai