Description
Pergolas are summerhouses with an electricity operated roof
that allow you to comfortably enjoy time spent in the terrace during any weather, despite hot sun, wind or rain. Retractable pergolas can be manufactured for desired width – from 5m2 up to 260 m2. For this reason, they are ideal for both private spaces, as well as commercial outdoor areas (hotels, restaurants or cafes).
We offer a variety of pergola side coverings for your taste and needs:
pergola with stationary;

pergola with vertical sliding glass doors

pergola with sliding glass systems;

pergola with a transparent roller-blind covering;

pergola with insect screens.
You can also have the pergola roof designed as you desire. You can choose the shape of the structure (inclined, flat or curved), as well as the desired material. Retractable pergola roof covering consists of a consistent water-proof tent material that is weather condition resistant. Such pergolas allow you to spend evenings in your terrace at any time of the year during any weather – all while looking very elegant. Besides, the roof can be operated however you like: they can be opened, closed, or just slightly opened. Additionally, glazing the pergola sides will allow you to enjoy the summer far longer.
Retractable pergolas differ in their size – Compact (smaller) and Premium (larger). Smaller measurement pergolas are most frequently chosen for individual homes, while larger measurements are installed for commercial spaces (hotels, restaurants and cafes)
"Lauresta" strives to satisfy even the demandest of clients, therefore, our produced pergolas can be of various structures, shapes, desired roof and side coverings. They can have lighting, integrated heaters and can be controlled in several different ways. All you need to know is what you want.
Compact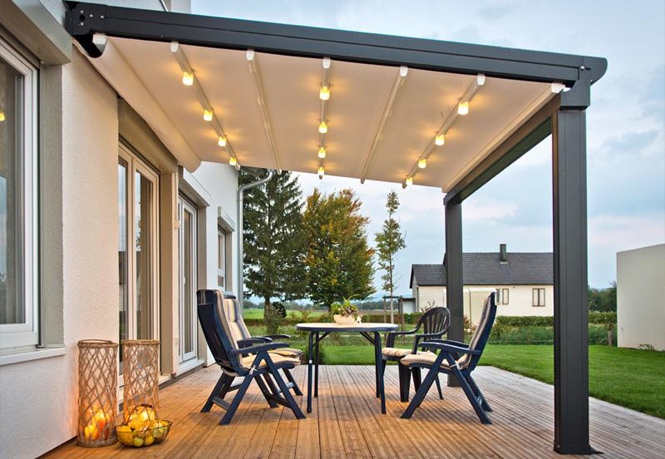 Premium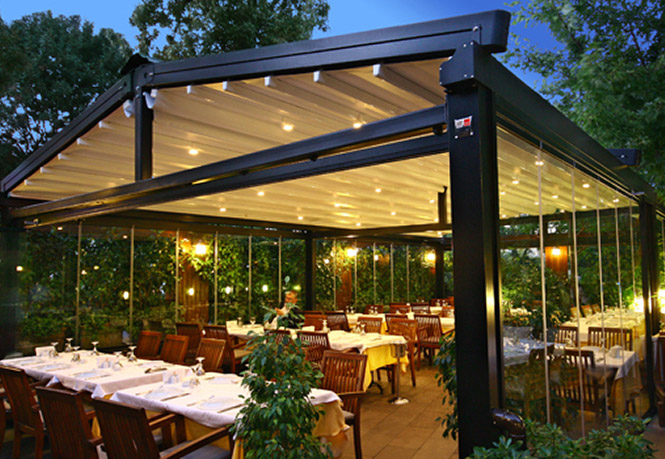 It is important to note that "Lauresta" manufactured pergola roofs are covered in very high quality patented German SIOEN fabrics that are valued for their extraordinary features:
Longevity and durability – resistant to any mechanical wear or deformation.

Water and moist proof – water gathered on the surface of the fabric goes down a special drain on the pergola front. Roof profiles are equipped with special gaskets that do not allow water to leak through the sides of the roof.
Fire resistant – they are non-flammable.

Weather condition proof – they can withstand wind and are UV ray resistant. Our pergolas are equipped with a tight structure and special gaskets which boost wind resistance.

Thermal insulation – resistant to temperature changes.

Elastic and light proof.
Pergola roof fabric can be chosen from a variety of most popular colour choices, while pergola sides can be covered as the client desires.
The most suitable pergola type and model should be chosen based on the architecture, planning and individual needs. A wide variety of pergola colours, structures and various additions allow the pergola to be adapted to both modern and classic interiors.
Pergolas can be either mounted on the wall-mounted or self-supported and erected in the yard.
Wall mounted pergolas;
Self-supported pergolas.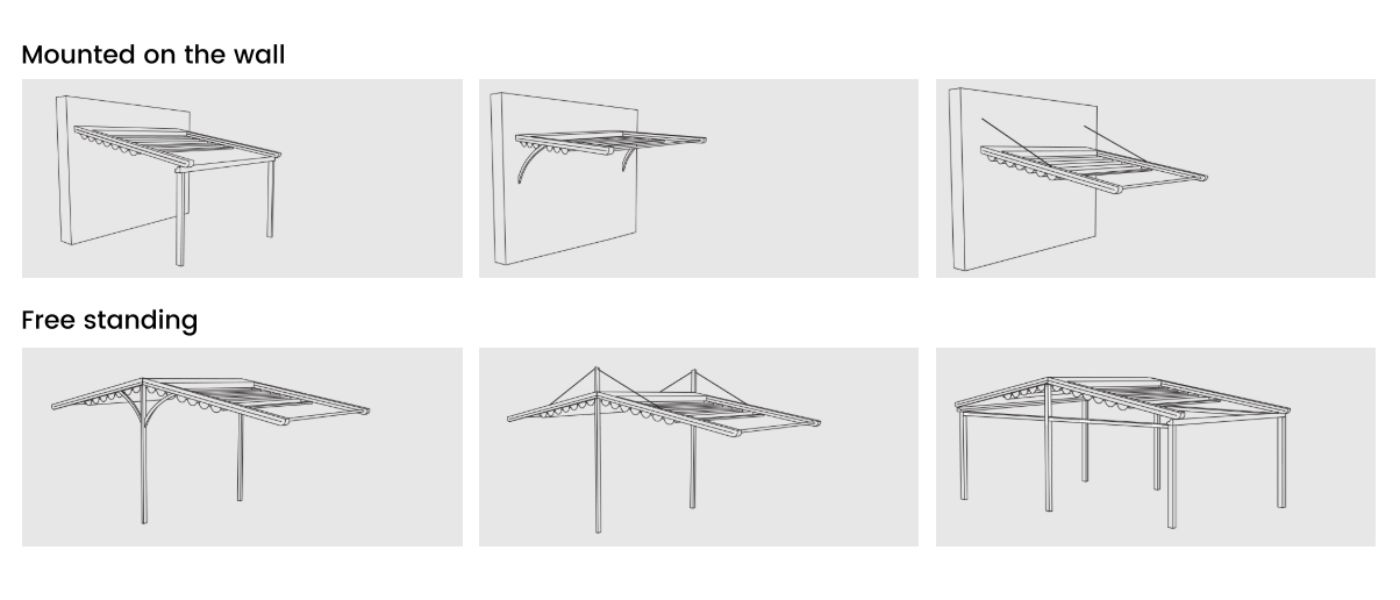 Those striving for maximum comfort choose automatic control pergolas. An electric motor is integrated into the pergola roof, which can later be controlled either by a switch, a remote, or a smartphone application.
Additionally, "Lauresta" offers smart pergolas that are equipped with sun, wind and rains sensors that automatically open or close the pergola roof based on weather conditions.
An additional element of comfort for your pergola: infrared heaters and LED lighting that can be installed.
Infrared heaters in pergolas allow them to be used at any time of the year. They are a great fit for both private and commercial spaces. Restaurant and café owners value them for their ability to prolong the outdoor café season, attracting more clients.
LED lighting systems – LED diodes of various shapes – are mounted in the pergola roof and not only help illuminate the room, but also create a cosy atmosphere. Lighting systems can be controlled with a remote or a smartphone application.
Why are pergolas so popular?
Extend the warm season – pergola structures (roof and side coverings) protect from bad weather conditions.

Create a personal space – pergola coverings protect from unwanted and curious glances.

Easy to control – can be controlled with a remote.

Provides comfort – a mosquito net and an infrared heater can be installed.

Makes your property look more modern and attractive.
By ordering a pergola from "Lauresta", you will be provided a two-year warranty for pergola structure, fabric and automatics.
Retractable pergolas with a sturdy aluminium structure is a great solution that ensures a comfortable rest, protects from unfavourable weather while allowing to enjoy fresh, outdoor air. It is also a great solution to attract more clients for cafes and restaurants with outdoor spaces.
More about pergolas:   www.pergola.lt
WE HAVE COMPLETED MORE THAN 200 PERGOLA PROJECTS
Our company was one of the first to introduce modern aluminum pergolas to the Baltic countries. Our experience over the years and cooperation with the leading European pergola manufacturers allows us to guarantee top-quality products and the most advanced technology.
Currently, we have installed more than 200 pergolas in Lithuania and Latvia.