Description
All electrified window covering devices, gates, awnings and pergolas can be controlled with remotes and/or wireless switches
Wireless switches do not require additional power source and are battery operated. A special signal will inform you of their battery running low.
"Lauresta" recommends reliable and high-quality switches and remotes from the SOMFY company in France. We offer to choose from 1, 5 or 16 channel remotes (the number of channels available represents the number of commands that can be programmed to it. For example, you will need more than one channel for several devices or several commands (for example, several fixed curtain positions for a motorised curtain track will require a multi-channel remote)).
If you have several electrified devices (for example, blinds on several windows and several motorised curtain tracks), 5, 6 or 16 channel remotes are recommended.
All switches and remotes have these basic functions:
Open;

Stop ("my" button);

Close.
Each remote allows the "My" button to be customised. For example, you can program it to enable your preferred, customised curtain position of a motorised curtain track.
For those that desire a "smarter" remote, we present a 6-channel programmable remote with a timer – Telis 6 Chronis RTS. This remote allows you to control up to 6 device groups with a time programming function.
Main features of a timer remote Telis 6 Chronis RTS:
Convenient remote screen will make device control easier;

Possibility to program "out of home" function: whenever you are away from home (on holiday, for example), your blinds and roller blinds will automatically open and close dynamically to create an illusion of somebody being home. This helps to scare away potential burglars.

An automatic blind and roller-blind operation can be programmed to match sunrise and twilight.
1 channel remote control Situo 1 RTS

5 channel remote control Situo 5 RTS

16 CHANNEL REMOTE CONTROL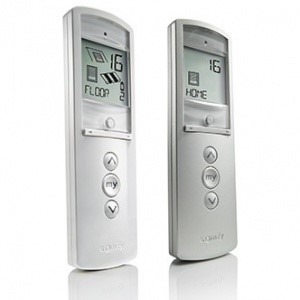 6 CHANNEL PROGRAMMABLE REMOTE WITH A TIMER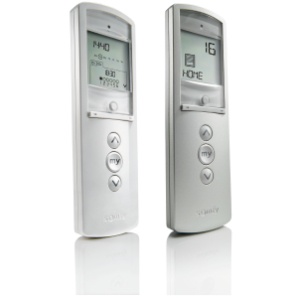 For those striving for maximum comfort, we recommend not only remotes and switches, but smart solutions, like smartphone applications and automation based on weather conditions (read more here TaHoma, weather-based automation) too.